Experience the Future of Travel and Dining with UnoMiru's Cutting-Edge VR Technology
In an era of fierce competition and evolving customer expectations, businesses in the UAE are turning to innovative solutions to capture the attention of discerning travelers and diners. Enter UnoMiru, a trailblazer in the immersive virtual reality (VR) industry, revolutionizing the way hotels, restaurants, and other establishments engage with their customers. With its premium 360° VR tours, UnoMiru is reshaping the hospitality landscape and setting new standards for customer experience and convenience.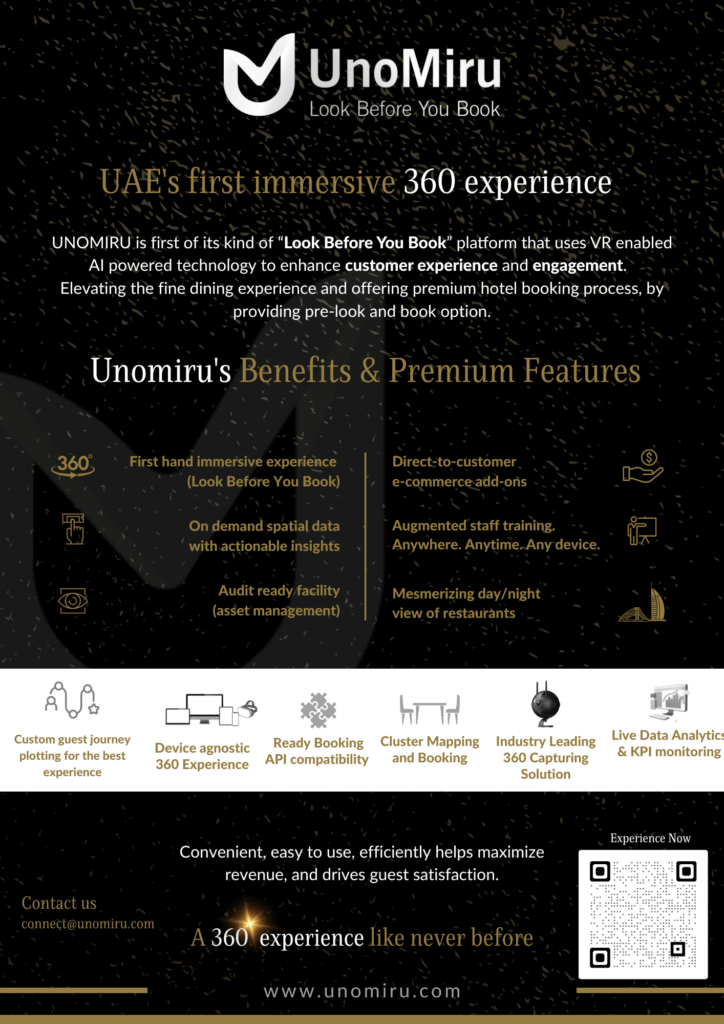 UnoMiru: Your Gateway to the Future of Hospitality
The potential of immersive VR technology in the hospitality sector is vast, and UnoMiru is harnessing it to help businesses create unforgettable experiences. According to Google Research in 2015, an estimated 75% of travelers are more likely to book a hotel stay after experiencing a virtual tour. UnoMiru's user-friendly platform allows potential guests to explore every nook and cranny of an establishment, immersing themselves in its ambiance and amenities. This level of engagement has proven to be a game-changer, increasing bookings and customer satisfaction.
Streamlining the Booking Process for Increased Customer Convenience
But UnoMiru offers much more than just immersive tours. Its streamlined booking process, powered by QR code technology, makes reservations effortless for customers. With a simple scan, guests can access information and book their stays or dining experiences directly from their mobile devices. This seamless integration of technology not only enhances convenience but also strengthens customer engagement, leaving a lasting impression and driving repeat business.
Promoting Sustainability: UnoMiru's Commitment to the Environment
In a world where sustainability is a pressing concern, UnoMiru stands out as a champion of eco-friendly initiatives. Traditional business practices in the hospitality industry have significant environmental impacts. However, UnoMiru takes a proactive approach, promoting sustainable business models that contribute to the growth and development of the community. By partnering with UnoMiru, businesses can showcase their commitment to sustainability, attracting environmentally-conscious customers who value responsible practices.
VR Integration: A Key Factor in Customer Decision-Making
The influence of virtual reality on customer decision-making is undeniable. Forbes reported in 2018 that around 90% of millennials consider virtual reality integration in their travel research process as an important factor when choosing where to stay. UnoMiru recognizes this trend and envisions a future where technology and comfort blend seamlessly. By combining innovation, creativity, and sustainability, UnoMiru is redefining the travel experience one VR booking at a time.
Case Studies: Success Stories with UnoMiru's VR Tours
Real-world success stories validate UnoMiru's impact on businesses across various sectors. Luxury hotels have witnessed a remarkable 30% increase in bookings after implementing UnoMiru's VR tours. These immersive experiences transport potential guests to the hotel's luxurious rooms, captivating amenities, and awe-inspiring views, leaving them eager to embark on their dream stays. Similarly, fine dining restaurants have experienced a surge in reservations as VR tours showcase the establishment's ambiance, decor, and mouthwatering culinary delights, enticing customers to indulge in a culinary adventure.
The Growing Trend of Businesses Investing in VR Technology
The growing trend of businesses investing in VR technology is further supported by recent surveys. Approximately 60% of businesses in the UAE have either adopted or are planning to invest in VR and augmented reality solutions to enhance customer experience and increase sales. The demand for immersive technology is skyrocketing, and UnoMiru is at the forefront, providing businesses with the tools they need to stay ahead of the curve.
Features and Benefits: Unlocking the Potential of UnoMiru's application
UnoMiru's cutting-edge VR booking software offers a host of features that unlock the full potential of immersive experiences. From cluster mapping for customized virtual tours to seamless integration with existing booking systems through API integrations, UnoMiru empowers businesses with real-time analytics and insights to refine their offerings and deliver personalized experiences that resonate with their customers.
Competition and Alternatives: Exploring Cost-Effective Solutions
While alternative solutions exist in the market, UnoMiru's unique value proposition and cost-effectiveness set it apart. With UnoMiru, businesses gain access to a user-friendly platform, extensive features, and a commitment to sustainability—all at a competitive price point. It's the perfect blend of affordability and premium service, making UnoMiru the go-to choice for businesses looking to embrace immersive VR tours without stretching their budget.
Conclusion
In a world where technology and hospitality converge, UnoMiru emerges as a pioneer, reshaping the future of the UAE's hospitality industry. With its immersive virtual reality tours, streamlined booking process, and commitment to sustainability, UnoMiru delivers a transformative experience that surpasses customer expectations. As the UAE's hospitality landscape evolves, UnoMiru stands ready to guide businesses into a new era of success, one virtual tour at a time.