Global Media Summit 2022 in its second day of conference continues to dwell into new paradigms within the media industry.
Continuing from the success of day one, the second day of the inaugural edition of Global Media Congress once again saw crowded halls, inspirational conference and workshop sessions packed to capacity. Highlights of today's program included H.E Sheikh Nahyan bin Mubarak Al Nahyan, Minister of State for Tolerance delivering a keynote address to celebrate the International Day for Tolerance.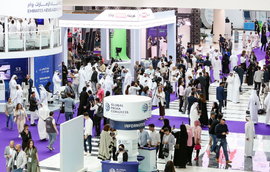 The conference hall was packed for panel discussions and sessions from Msgr Lucio Adrian Ruiz, The Secretary of the Dicastery for Communication, (The Vatican), Mark Whitehead, CEO, twofour54, Ramy Jallad, Group CEO, Ras Al Khaimah Economic Zone and Wayne Borg, Managing Director – Media, Entertainment & Culture, NEOM.
Exciting topics at the Create Stage and Workshops included esports, metaverse, solution journalism and podcasting 101. There we some fantastic networking opportunities with exhibitors showcasing some impressive products and technology for media.